Upward

Welcome to Upward Basketball!
Welcome to Upward Basketball at Mt. Juliet Church of the Nazarene! Our season will begin in November with evaluations. We will have two weeks of practice in December before Christmas and then take a break for the holidays.
The season ramps up the week of January 8th with our 8-game season beginning! Games will be on 1/13, 1/20, 1/27, 2/3, 2/10, 2/17, 2/24, and 3/2.
For our youngest players in grades K4-1st, we will run a "Little Dribblers" program. The first few weeks of practice will be basic basketball skills and rules, including dribbling, shooting, passing, and defense.
They will have games in the last four weeks of the season on 2/10, 2/17, 2/24, and 3/2.
Here are the links to register as a volunteer or athlete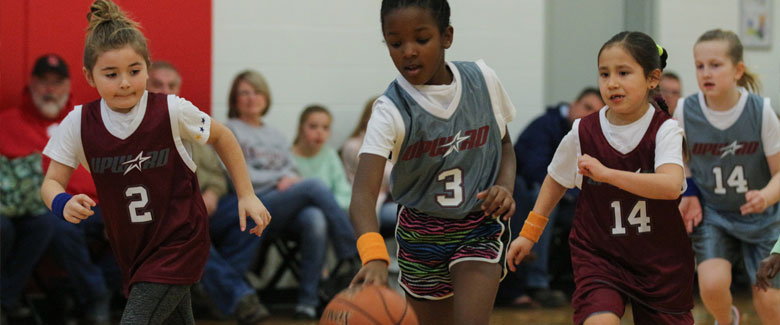 "And whatever you do, in word or deed, do everything in the name of the Lord Jesus, giving thanks to God the Father through him." (Colossians 3:17)
Based on Luke 2:52 "Jesus grew in wisdom and stature and in favor with God and man." our experiences are designed to equip churches to engage the whole athlete – mind, body, spirit and soul.
Unfortunately, some children may have to be waitlisted due to exceeding the maximum number in a specific division or the program as a whole.  In the case that your child is one of these children, we will notify you if an opening arises within the following guidelines:
If your child is taken off the waitlist, we will attempt to contact you through email and/or phone call if available.  You will have 24 hours to respond before the spot will go to the next available child. (Feel free to reach out to the program director after the 24 hours because your spot may still be open.)
You will be responsible for paying the cost of the uniform/equipment with the program and the prorated amount to finish the season.
Uniforms take 3-7 days to come in from the time we order them, so your child may have to play a game in regular shorts and T-shirts, depending on when your child starts. 
After February 13th, the waitlist will be void and no longer eligible for this season, but all are welcome back next year.
If your child is on the waitlist, we can make a note if they would like to act as a game day substitute.  If players can't make it to a game, we will contact you to see if your child wants to play.  In this circumstance, this is a courtesy to us, and you will not be charged for filling in a specific week.
Click the above link for more information.
This program runs on volunteers, which means we need you! All coaches, assistant coaches, scorekeepers, and referees are volunteers.  Many people who volunteer for these roles are parents of the children that are in the program.  You don't have to be an expert in any of the areas, but be willing to follow these guidelines:
All coaches and referees must be background-checked through the church. Those previously involved may or may not have to be rechecked.
Willing to refrain from vulgar language or inappropriate behavior.
Participate in the provided training.
Ability to commit to program guidelines
Families are eligible for a full refund if they withdraw on or before November 20, 2023.  After the November 20th date, families will be charged $70 to withdraw from the program due to the cost of processing, equipment, gear, and merchandise. 
Everyone must nurture a positive environment and Christlike attitude.
Coaches, parents, and participants must refrain from yelling at or putting down referees. Keep in mind that most of them are volunteers and not trained professionals.
Feel free to encourage players, but refrain from screaming negativity toward coaches, players, scorekeepers, or referees.  We understand that the player might be your child, but even statements directed at your child can impact other players. This also means that the encouragement of one player should not put down or insult another person.
This is a faith-based program, so regardless of personal beliefs, everyone must refrain from discouraging others from following Christ. If there is concern about the teachings, please get in touch with the program director or their assistant.
Rules are modified based on each level, program, and location. Please refer to the director of the scoreboard table for rule clarification.  Other school programs, community programs, or even Upward programs may look and run differently. 
We appreciate feedback about the program, but all concerns should be directed to the program director or assistant.
Parents or spectators should never confront the referees or opposite teams, coach, or players about gameplay. If there is an issue in the court due to excessive body contact, inappropriate language, or hostility, you should immediately find the director or assistant.  If something is emergent and one of these representatives is unavailable, please pull your coach aside so they can respectfully speak to the referees.
This is by no means an exhaustive list, but it indicates the many guidelines taking place.
If these guidelines are not followed, you and your child may be suspended from the game or the season based on the severity of the infraction. In this event, a refund would not be owed back to the participants.  You and your child may be asked to leave the premises, and failure to comply could result in the Mt. Juliet Police Department being called.
Questions? Please contact: